Celebrate Certification Achievement
Celebration Tool Kit

Download the Celebration Tool Kit (PDF)
The purpose of the Celebration Tool Kit is to recognize and celebrate nurses who earn the Certified Neuroscience Registered Nurse (CNRN®) or the Stroke Certified Registered Nurse (SCRN®) credential or complete the Certificate Program for the Seizure and Epilepsy Healthcare Professional.
The Tool Kit includes:
Information about ABNN, the certifications, and certificate program
Congratulatory cards
Social media images and sample messages
Sample letter to share your accomplishment with hospital leadership
Ways to celebrate your nurse
Resources for supporting other nurses in earning certification or completing the certificate program, including a printable poster
Purchase a Pin



Display your certification proudly with a CNRN or SCRN pin. Show your support for ABNN and pride in your professional achievement—order your pin from the AANN online store today.
Display a Plaque
Institution Plaque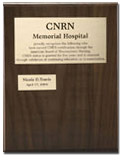 Recognize the CNRNs or SCRNs at your institution with the official CNRN or SCRN Institution Plaque. Each plaque features a large brass plate engraved with the credential, your institution's name, and a description of the CNRN/SCRN certification. Smaller individual plates on the bottom of the plaque are engraved with your CNRNs' or SCRNs' names and initial certification dates. Send your order form and appropriate payment to Zip Specialties.
Various sizes are available:
8" x 10" (accommodates up to 6 individual plates)
9" x 12" (up to 12 plates)
12" x 15" (up to 18 plates)
CNRN Institution Plaque Order Form (PDF)
SCRN Institution Plaque Order Form (PDF)
Certificate Plaque

To proudly display your achievement, have your CNRN or SCRN certificate mounted on a plaque with a protective Plexiglas cover. Send your certificate, order form, and appropriate payment to Zip Specialties for certificate mounting services.
CNRN Certificate Plaque Order Form (PDF)
SCRN Certificate Plaque Order Form (PDF)
Join the National Celebration on Certified Nurses Day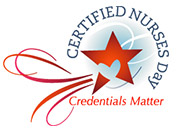 Each year on March 19 employers, certification boards, healthcare organizations, and many others around the nation join to recognize and support nurses who have taken the time to earn these credentials that signify their success. Your CNRN and SCRN credentials demonstrate your commitment to advanced neuroscience or stroke knowledge, skills, and improved patient care.
ABNN is proud to celebrate our certificants and to join in support of Certified Nurses Day on March 19. Look for your Certified Nurses Day card from ABNN in the mail this March!