ABNN Certificant of the Year Award and Application
The deadline has been extended to Friday, November 8, 2019.
The name of the award was changed in 2014 to encompass both CNRN and SCRN certified nurses.
The ABNN Certificant of the Year award is presented each year at the AANN Annual Educational Meeting. This annual award recognizes one certified nurse's outstanding achievements in neuroscience nursing. The certified nurse of the year contributes to neuroscience nursing through
professional service
mentoring and education
patient and staff advocacy
promotion of the certification.
Help promote the Certificant of the Year Award at your hospital. Print and display the awards flyer to encourage your colleagues to nominate a deserving nurse.
Applications
ABNN Certificant of the Year Award applications are due Friday, November 8, 2019, to Kelly Podkowa, ABNN Certification Manager, at This email address is being protected from spambots. You need JavaScript enabled to view it.. Nominate yourself or a colleague today.
Past Winners
2018 ABNN Certificant of the Year: Marissa Lindor, RN CMSRN CNRN SCRN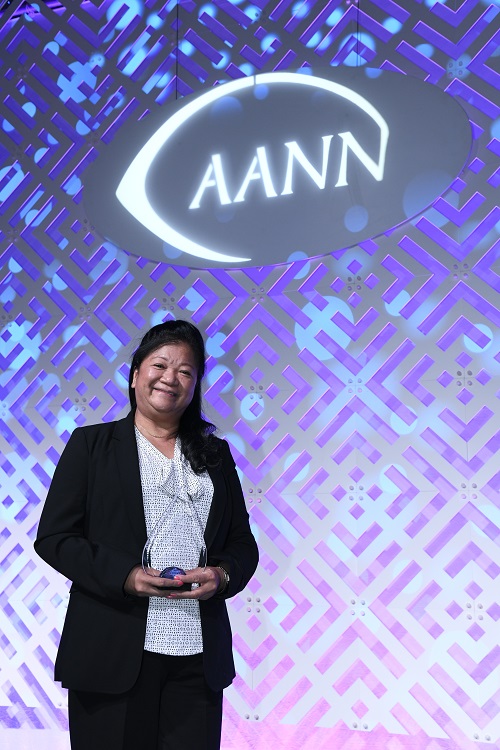 Marissa Lindor was recommended by Tracy Cunningham and Amanda Imler. Marissa is a clinical manager of a 45 bed neuroscience unit at a large community hospital. She leads multidisciplinary rounds daily and utilizes her knowledge of the neuroscience patient to ensure the best possible care. Marissa has been a neuroscience nurse for 18 years and holds both the CNRN and SCRN certifications. Additionally, she is a professor of nursing at Broward College and mentors students. Marissa is described as an encouraging, inspiring, and brilliant individual that has a strong passion for neuroscience nursing.